A Watershed Moment for Turkish Tennis
MODAFEN COLLEGE COOPERATION
A FIRST IN TURKISH TENNIS:
OUR CHILDREN WILL CONTINUE TO RECEIVE QUALIFIED EDUCATION WHILE PREPARING FOR A PROFESSIONAL TENNIS LIFE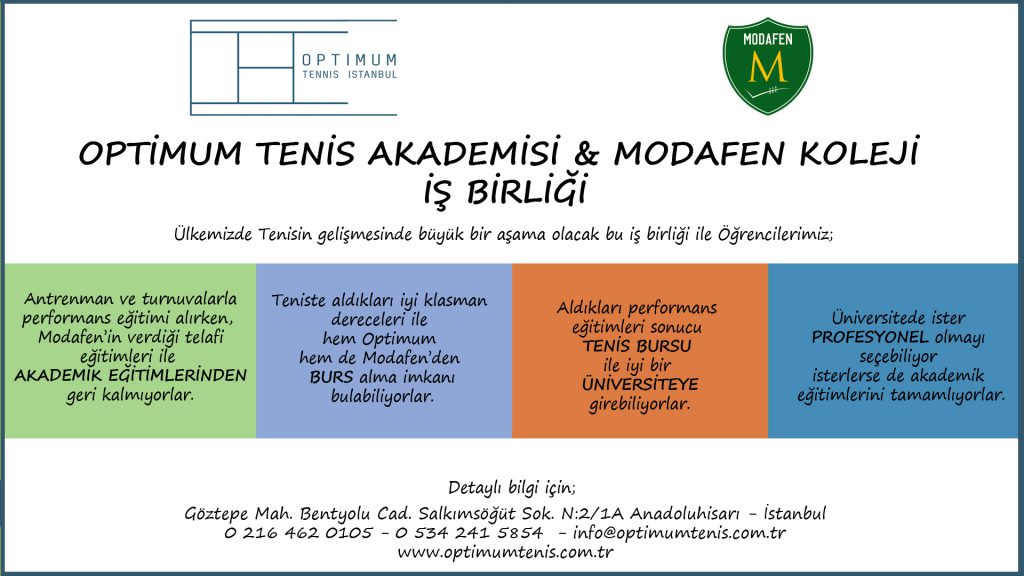 A cooperation agreement was signed between MODAFEN KOLEJİ and OPTIMUM TENNIS ACADEMY in order to enable students to carry out their education and sports life together in a healthy way.
The purpose of this agreement is to create support for the training of Turkish tennis players and carry them to professionalism. In line with the agreement, while the training and tournament organizations needed by the players to reach the professional level are carried out by OPTIMUM, their education will be supported by MODAFEN.
Successful tennis players will be supported by both the tennis academy and the school with scholarships, our goal at the end of this cooperation is to enable our students to study at universities which have a top-level tennis team.
After this stage, our students will have the chance to become professional and complete their higher education.
"Hayatınızda bir şeyi çok iyi yapıyorsanız onu bırakmak istemezsiniz. Ve bu benim için tenis."
"Tenise başladığım zamanlara geri gidebilseydim, kondisyon antrenmanlarına çok daha fazla ağırlık verirdim."
"Yalnızca denemekten vazgeçerseniz kaybedersiniz."
"Sonra fark ettim ki teniste iyi olmak için çok fazla yapılması gereken şey vardı."
"Nerede karşılıklı sevgi ve saygı varsa, orada itimat ve itaat vardır. İtimat ve itaatin olduğu yerde disiplin vardır. Disiplinin olduğu yerde huzur, huzurun olduğu yerde başarı vardır."
"Teniste kendi kendime karşı verdiğim mücadele, en çetin rakibime karşı verdiğim mücadeleden daha zorlu geçer."
"Müthiş bir adanmışlık yoksa, muhteşem bir başarı da yoktur."