A Watershed Moment for Turkish Tennis
MODAFEN COLLEGE COOPERATION
A FIRST IN TURKISH TENNIS:
OUR CHILDREN WILL CONTINUE TO RECEIVE QUALIFIED EDUCATION WHILE PREPARING FOR A PROFESSIONAL TENNIS LIFE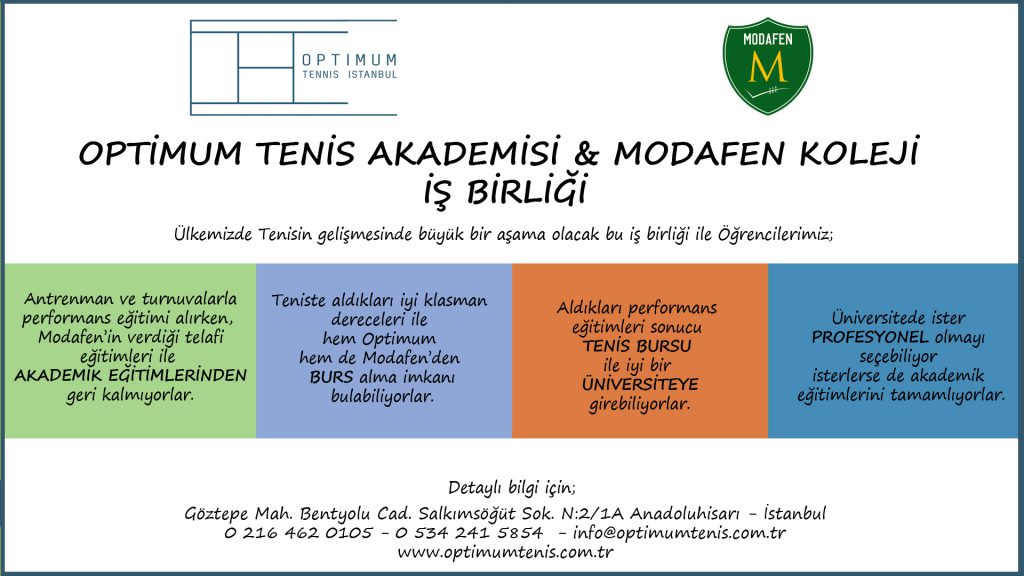 A cooperation agreement was signed between MODAFEN KOLEJİ and OPTIMUM TENNIS ACADEMY in order to enable students to carry out their education and sports life together in a healthy way.
The purpose of this agreement is to create support for the training of Turkish tennis players and carry them to professionalism. In line with the agreement, while the training and tournament organizations needed by the players to reach the professional level are carried out by OPTIMUM, their education will be supported by MODAFEN.
Successful tennis players will be supported by both the tennis academy and the school with scholarships, our goal at the end of this cooperation is to enable our students to study at universities which have a top-level tennis team.
After this stage, our students will have the chance to become professional and complete their higher education.
"When you do something best in life, you do not really want to give that up - and for me it is tennis"
"If I could go back to the time when I started playing tennis, I would place more emphasis on fitness training."
"You only loose when you stop trying."
"Later, I discovered there was a lot of work to being good in tennis."
"Where there is mutual love and respect, there is trust and obedience. Where there is trust and obedience there is discipline. Where there is disipline there is peace. Where there is peace, there is success."
"The struggle against one's own self in tennis is more difficult than the struggle against the most difficult opponent."
"There is no abiding success without commitment."